May 2019
Autumnal Greetings!
Today is Open Day at Rathkeale and as I write many families have just finished sampling what the College has to offer.
In their midst were a good number of Old Boys with sons in tow.
How quickly the years roll by!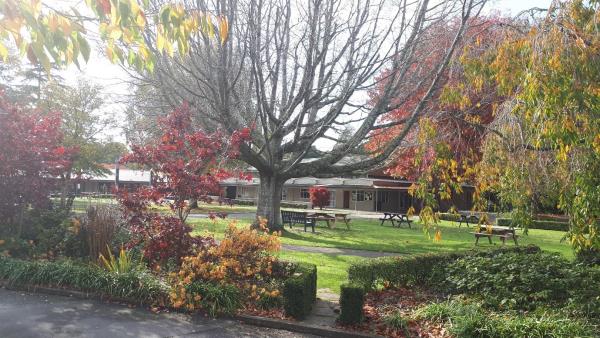 View to the gym & first classroom block Autumn May 2019
Auckland Gathering
The recent combined ROBA/SMOGA gathering held at the Parnell Lawn Tennis Club was a highly successful event that owed much to the hard work and organisational skills of David Aitken, Dwayne Smith, Mike Caulton and others from both associations.

 

Patron John Taylor and Sarah, along with Bruce and Gwen Levick were guests of honour and were joined by Martin O'Grady (Principal) and me.

 

Over a hundred Old Boys and Old Girls were entertained by the guest speakers and the night was certainly highly pleasurable.

 

The annual Auckland event is now a well-established tradition and something to look forward to in the future.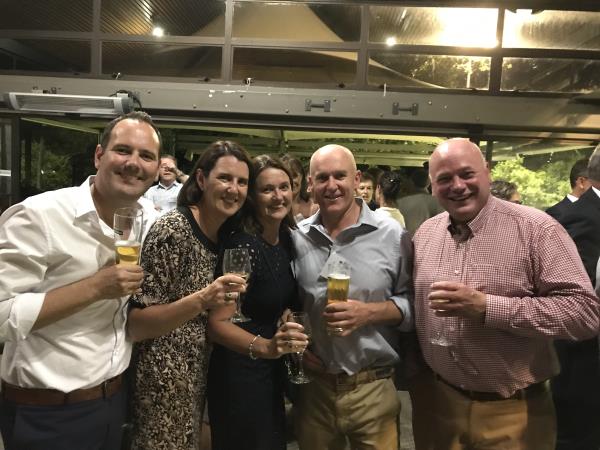 The organising committee: Dwayne Smith, Kirsty Cowie, Celia Motion, David Aitken, Mike Caulton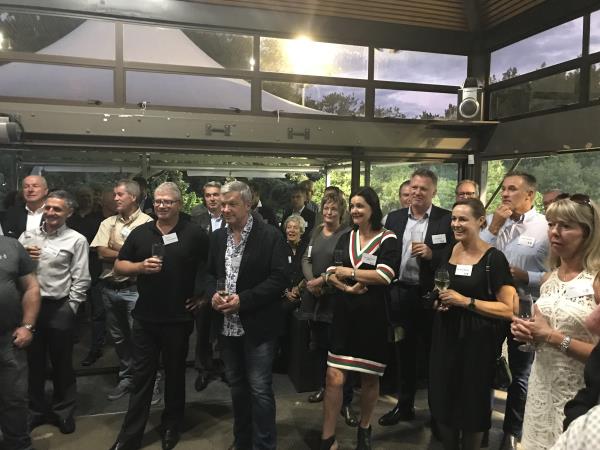 Attendees enjoying the humour of the guest speakers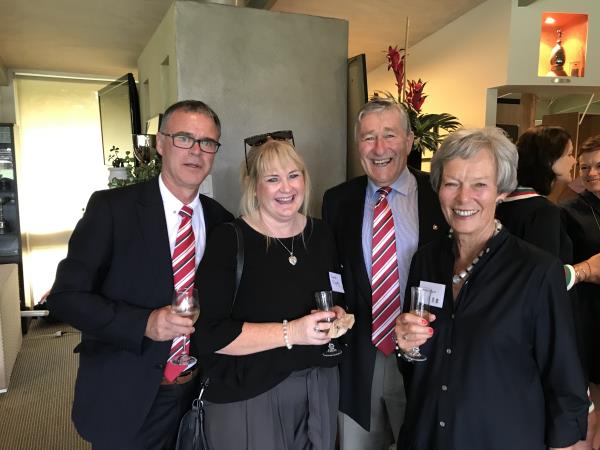 Current Principal, and second Headmaster; Martin and Sara O'Grady with John and Sarah Taylor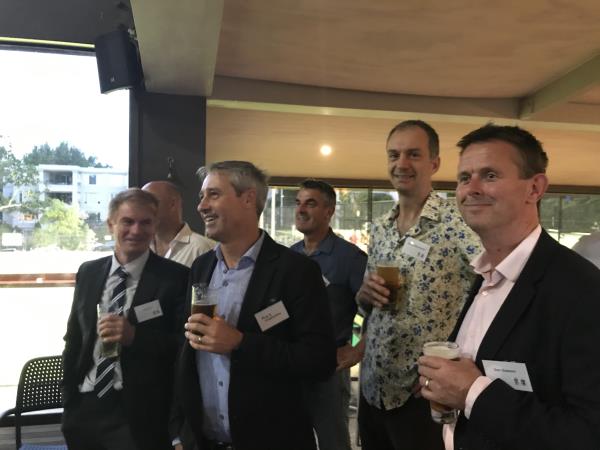 Tim Jack, Mark Hiddleston, James Sutherland, Struan Buchanan, Daniel Dobson
The Association has been saddened by a number of recent deaths
Pat Lee
Pat Lee was for a decade an obliging College Librarian (1978-88), and wife of Fred Lee, HOD Technical Drawing, who joined the staff in 1968.

 

Following their retirement from Rathkeale the Lees moved to the Coromandel where Pat died in early April.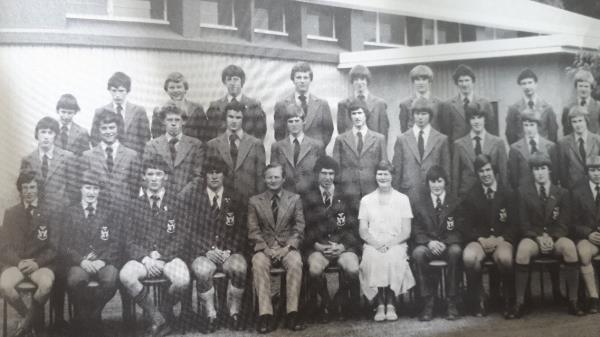 Pat Lee and Bruce Hamilton with 1980 Librarians
Gary Harwood (1965-1967)
Gary who is 86 on the College roll was Head of Cranleigh, in the Rugby XV and recipient of music colours.

 

Significantly, he was the first Chairman of the Old Boys' Association and retained a keen interest in the College throughout his life.

 

Gary died on Thursday 2nd May on Auckland's North Shore after a brief illness.
 
Peter Gilliland (1964-1968) reports that Old Boys, Rob Cooper, Dave Morison and Simon Stewart had been with Gary and sharing old Rathkeale stories on the day he died.

 

Blyth Adams had also seen him over his last days and we know that Gary retained his awesome sense of humour to the last.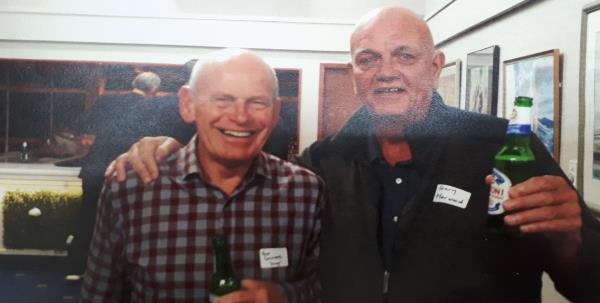 Peter Gilliland and Gary Harwood at the 2018 Auckland ROBA gathering
Rev. Ted Dashfield
Ted Dashfield, who passed away two weeks ago aged 92, will be remembered by many Old Boys as the Headmaster of St Matthew's Collegiate from 1969-1980 and as an Anglican Priest who often provided Rathkeale boarders with Sunday sermons at the Parish Church.

 

Ted was a real institution within the Wairarapa community.
 

We extend our sympathy to Prue (current Matron of Cranleigh House) and to Philip (1972-1976) and Jamie (1974-1978)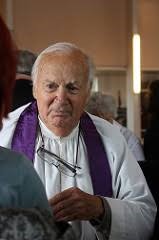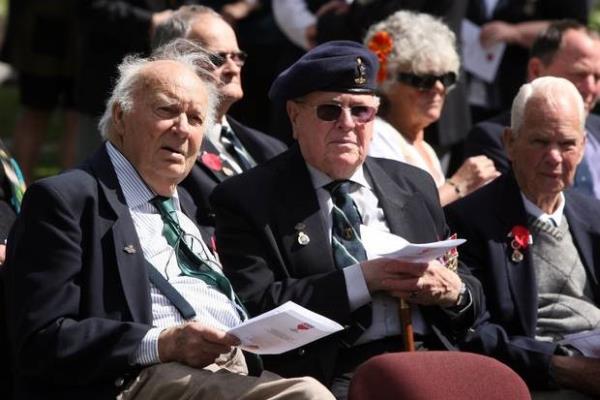 The Rev. Ted Dashfield.
School House
Visitors to the College cannot help but notice that School House is clad in extensive scaffolding.

 

This is a sign of the building's re-roofing that is currently underway.

 

The unsightly old sheds and the rather distinctive water tower were removed over the summer holidays and the whole area is being upgraded.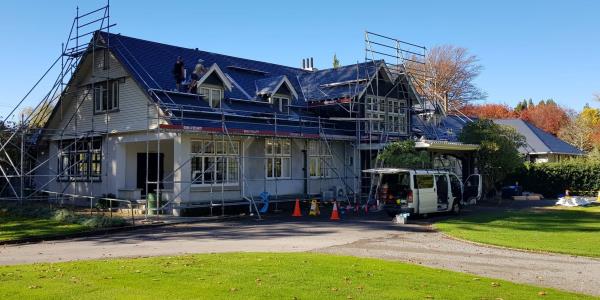 Decades
-
on Reunions – all the 9's
Remember that if you are part of a cohort that finished their time at Rathkeale in 1969, 1979, 1989, 1999, 2009, Queen's Birthday is your time to come back to Rathkeale and to share time with your College contemporaries.
Year Group Facilitators would love to hear from you and your mates. Please click on the email addresses below and make contact:
1969  
1979  
1989
1999
2009
Format:
Friday Evening
         

6:30 PM Social gathering for all attendees and partners in College Dining Hall ($30.00 per person)

Saturday Morning

    
Morning tea, School tours, photographs and lunch (courtesy of the College)

Saturday Afternoon
 

Free time or activities as organised by Year Group Facilitators.

Saturday Evening

    
Year Group function as organised by Facilitators.

Sunday Morning:

     
9:30 AM Chapel for absent Friends followed by morning tea.
Please contribute to this growing tradition by making this the best reunion weekend yet.
We want you there!
Regards
Grant Harper

President